In recent years, CMS has made dramatic changes to the regulation of Medicare health benefits.  In this blog we discuss the emphasis the agency has placed on flexibility.  Two January reports from Deft Research — 2021 Medicare Shopping and Switching and The National Medsupp+OMO to MAPD Study — illuminate the value of flexibility in Medicare benefit design.  Clients of the second study receive an online market simulator capable of testing the competitiveness of benefit designs with an unlimited number of scenarios.  The use of this tool has helped many MAPD's make the decision to change and expand the design of their benefits.
Background
In 2018 and 2019, the Centers for Medicare & Medicaid Services (CMS) expanded the types and flexibility of supplemental benefits that Medicare Advantage (MA) organizations can offer to their enrollees.  The changes are dramatic because they demonstrate a shift in the underlying principles of health insurance regulation.
The new CMS approach emphasizes flexibility over equality. 
Historically, health insurance regulators approached consumer protection through the principle of equality.  Under Equality all MA's had to offer substantially the same benefits to all of the enrollees of a particular plan.  This was to ensure all enrollees have access to the same care and that nobody was treated inequitably.
Under the new approach, the principle of flexibility depending on need is emphasized.  Not all benefits have to be offered to all enrollees of a plan — for instance, the cost sharing for diabetics can be reduced  without similar reductions being offered to other consumers.  Under Flexibility supplemental benefits can be organized for the specific needs of individuals, rather than defined as one-size fits all.  For example, in-home services can be delivered by  medical or non-medical personnel depending on the need.
According to an analysis by Milliman, for the 2021 plan year, expanded supplemental benefits are included in 575 MA plan benefits.  This is a significant increase from 351 plans offering expanded benefits in 2020.  We view the increase as evidence that MA plans are a responsive vehicle for designing the delivery and financing of expanded benefits.
How This Shows Up When Seniors Switch Health Plans
Whether 2020 MA plans offered or did not offer supplemental benefits is related to whether seniors switched from plans during last fall's Annual Election Period (AEP).  The chart below provides evidence from Deft Research's 2021 Medicare Shopping and Switching Study.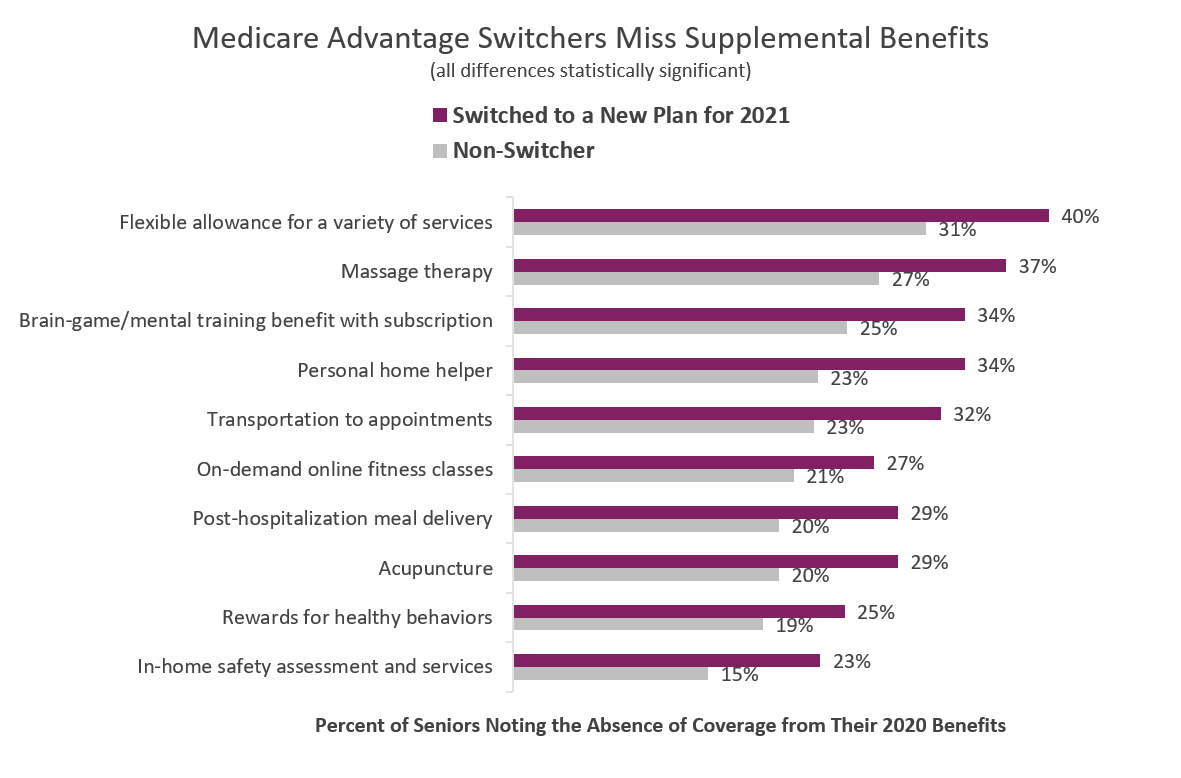 The chart compares percentages of seniors who switched health plans for 2021 with those who did not.  We note that the most flexible benefit, a benefit allowance, sits at the top of the chart as most often noted by switchers as missing.  This supports the idea that a flexible allowance which provides some assurance of extra coverage for needs that cannot be foreseen, is highly valued by consumers.  Flexibility is linked to trust and both are fundamental to the value perception. 
National Study Provides a Tool for Looking Ahead to 2022 Health Plan Design
We have completed a new large study entitled, 2021 National MedSupp and Original Medicare to MAPD Conjoint Study.  The study uses conjoint analysis to measure the value to consumers of key attributes of Medicare Advantage plans.  The respondents to this study represent the two largest blocks of seniors who have been unmoved by MAPD value — seniors with Medigap coverage and those with original Medicare only.  Solving for the intractability of these groups has become a top priority among MA marketers.
Like the shopping and switching study, the national conjoint study also found that consumers perceive flexible allowance benefits to have a high value.  With this study the measure allows users to assess the impact an optimized benefit might have on the share of consumers who would most prefer that plan over alternatives.
Clients of this study receive an online simulator capable of testing the competitiveness of benefit designs in an unlimited number of scenarios.  The report and simulator are gold-standard tools for those interested in maximizing the conversion of consumers with Medsupp or OMO to MAPD.
An Executive Research Brief based on this study is available giving readers more details and a deeper treatment of its findings.